Choice Voting provides a simple to use platform for teachers wishing to provide a modern online platform that allows students to vote in a private and secure manner.
Teachers or school administrators have full control and overview of the voting platform, and decide who can vote, when voting is open, and the details of each candidate or option in your election.
Choice voting allows you to have full control and transparency in your data, with options to completely erase the voting data at the end of your election, we provide a handy encrypted data file for safe keeping, should you need to reload your election in the future.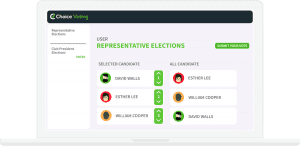 Your students will love the online format of voting, and can vote on a wide range of topics or choices in your school, they could vote on premises or via a mobile phone or tablet from any location, this gives them a true sense of engagement.
Special pricing is available to schools, so get in touch with us to discuss the options available
Some examples of use for School Online voting
Choice Voting provides a secure and convenient online voting solution for higher education, primary, middle and secondary education, and school boards.
Higher Education
One Choice Voting account can be leveraged for all voting on campus:
Student Government
School Board
Promotion
Fundraising choices
Student Council
Alumni Association
Integrations with your School platforms
We can integrate with common authentication technologies so that voters may use their existing school passwords to identify themselves:
SAML
LDAP directory
Single Sign-On (SSO) links